STEM School Adds Locations to Meet Growing Demand
Summary
A K-8 STEM charter school in Kenosha, Wisconsin wanted to grow. So it turned to Corporate Images to brand the school's program. The goal was to create a strong identity in the community and get their story to parents to increase enrollment. The branding worked so well that a huge waiting list grew quickly, and an additional K-8 school had to be started and equipped to meet demand. Now KTEC has established a high school and obtained almost a million dollars in grant money to launch the new entity.
Challenge
Kenosha School of Technology Enhanced Curriculum (KTEC) had a successful K-8 STEM program in place but needed to promote it in the community. The charter school wanted to be more recognizable and the first choice by parents and students. The principal knew a successful marketing campaign would achieve these goals. She also knew future marketing efforts would be required to raise funds as increased enrollment required additional space.
Solutions
To capture KTEC's unique brand, Corporate Images interviewed staff, students, and parents. After synthesizing this information and framing up convincing messages, we designed a bold logo representing the four STEM areas in connected, colorful puzzle pieces. We incorporated the new look into business cards, letterhead, notecards, personalized tablets, pocket folders, stickers, and signage inside and outside the building.
But creating awareness outside the school demanded more than a facelift to outdoor signage. We created brochures and videos showcasing KTEC's technology programs. The growth-themed marketing campaign included newspaper ads and posters around town to attract parents and children to open house sessions, where more marketing materials were available for pick-up. And of course, all this was featured on their website.
We also marketed a series of fund-raising efforts, a Gala Dinner, a 5K Run/Walk, and a Fall Harvest Dinner. For each, we designed a logo extension, along with posters, letters, and tickets promoting the events.
We also created a Brand Guidelines document that keeps marketing activities on-brand when carried out by internal staff and school volunteers today.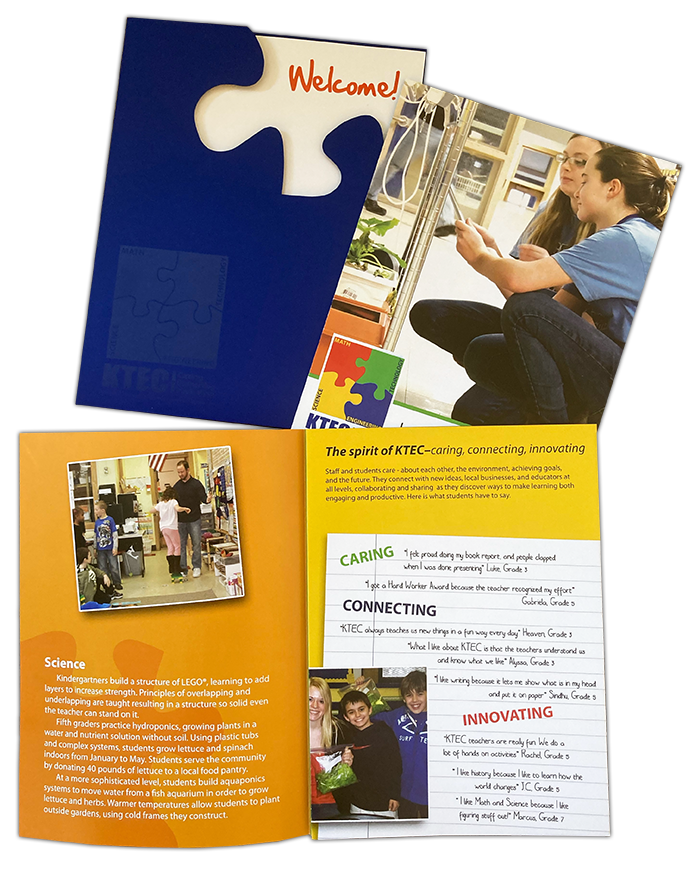 Results
Enrollment is so popular with KTEC that it requires a lottery system for selecting new students. The growth in enrollment necessitated securing a second K-8 site. Demand for a STEM high school led to KTEC opening a high school in 2022.  KTEC enjoys a stellar reputation. Because of its strong brand and record of success, the principal was able to secure a grant for $900,000 to create the new high school. With the strong brand developed deep, and the Brand Guidelines clearly stated, KTEC is able to maintain marketing tasks with internal staff which keeps their promotional budget lower.